Sustainable and ScandiStyle Cat Furniture
Say HELLO to beautiful (Cat) "Fur-niture" with SØDE Design!
Our products are designed with love for Cats, Cat Parents, their interior and manufactured with sustainable materials in Sunny Portugal. You no longer have to decide between pleasing your cat, keeping your interior intact from sad-looking Cat furniture or importing Cat Accessories from a far far far away land. Finally Furniture that Cats and Hoomans can share!
However designing Furniture that Cats, Cat Parents and the Planet love is no small venture; that's why, with your support, we are on April 5th 2022 launching a Crowdfunding Campaign on the Kickstarter platform to help us start the production in Portugal. Be among the early Founders and help us make it happen here!
ORIGAMEOW
Origameow, the modern and most stylish Cat Scratching Post in the market that also serves as a barstool so that you and your Cat can share a stunning piece of furniture.
Multifunctional, Origameow will allow your Cat to hide and sleep in its cave, chill at the top (when you're not seating on it), scratch on the side, and run after thanks to the attached (but detachable) playrope. A truly multifunctional piece of modern cat furniture.
FLOWER PAWER
Flower Pot or a tall, strong cat Tree Scratcher? Why decide when you can have both!
Finally, a vertical cat scratching post that has some swag and is fully circular! Watch your favorite succulent or cactus grow in this elegant cork Flower Pot while your Cat work its claw magic on the cardboard part. Like the true multifunctional modern cat furniture it is, it also come with a playrope!
PAWTY ROPE
What would be a Cat's Life withou playrope and balls to play around with? Our unique and handcrafted interactive toy, the "Paw-ty" rope will delight your little felines and provide them with hours of entertainment!
Plus, all cat toys are uniquely handmade by an artisan in Portgual, who uses recycled industrial fiber waste to create some "Meow-gic"! For the best sustainable and interactive cat toys out there, this way please!
Our clients are giving us 5-Stars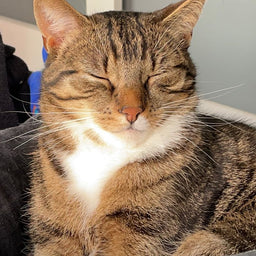 As someone who actively searches for places to hide from my affectionate owner, the Origameow gives me a perfect spot to peer at him disapprovingly while staying surprisingly comfortable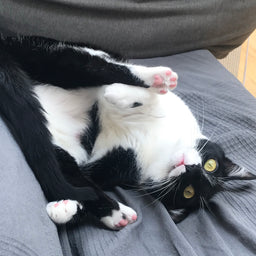 I like to scratch on Origameow before playtime, it is very funny! // Sleeping on the top of Origameow allows me to control my sister Fluffy when she sleeps in // Origameow is my fav scratcher it is very sturdy and I can be my normal self (crazy, of course), I can jump on and off, I can scratch and nothing happens, it never falls!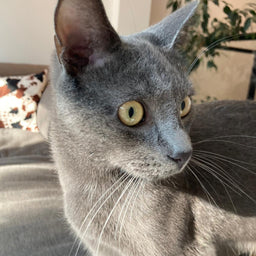 After a fun-filled day spent outside being "adventure cat", I love nothing more than to reunite with my Origameow. It's the purrfect place to unwind, take a nap, have a bath or stretch out and scraaaaaatch!!!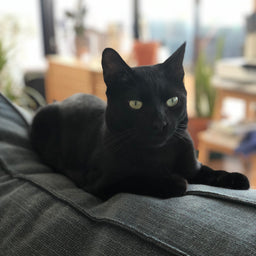 I'm a curious little panther always looking for something to scratch. I adopted Origameow straight away — which makes my parents very happy because I'm less keen on scratching the sofa and they find it rather stylish and practical in bar stool mode. As for me, I like to let off steam on the walls (which are very pleasant for my little paws) and I like to sleep from time to time in my hideout.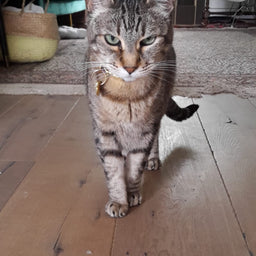 As the Muse- in-Chief for SØDE Design, my standards are REALLY high!
I can guarantee you that I made my Meowther work very hard to achieve such a pristine result. I can now go wild on the scratchy walls, monitor the living room from my new Throne and finally hide away from her constant cuddles.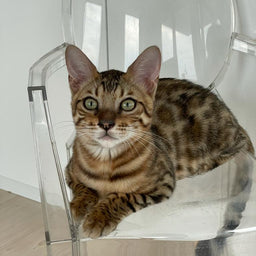 "Meow, meow, meow, don't touch my little scratchy house, Meowther, it's mine!"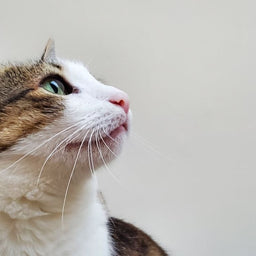 I love Origameow because I can sleep near mummy when she sits on it // I love to rest in and on Origameow I haven't quite decided myself yet. // I love stretching my muscles on Origameow after a good nap.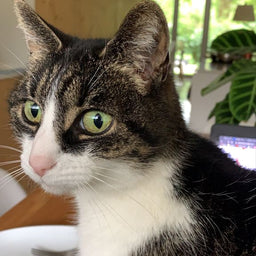 Since I have an origameow at home I sleep like a baby (kitten)
I love how safe and relaxed I feel inside.
When there is too much action around this is my favorite space to zone out.
I also love the view from my Origameow!

Proudly Tested by & on Cats


 Designed with a Cat Behaviorist

Premium Quality Materials
Our Promise
Say bye bye to your Ugly Cat Tree!
We're excited to bring you the most pawsome CAT products and designs that will keep your furry family members happy, your fur-niture intact, and your home's design as beautifully chic as ever. The days of settling for "not that awful" Cat Toys and Accessories are over.
SØDE Design has been created to offer sustainable Scratchboards and Furniture inspired by Scandinavian aesthetics that are long lasting, along with the help of a vet and cat behaviorist.
P(l)usss, you won't notice its Cat Furniture (because it's so stylish) until you see your furball interact vigorously with it, so how cool is that?
Time to show it off to friends and family!
Happy Purrs,
Carøle
Understanding a cat's behaviour is extremely important not only for their own good, but also for yours and the relationship you have together. And no worries if you haven't got it all figured out just yet, we've got your back!
We've been talking quite a lot about different sign and cues you can pay attention to and see whether your furry friend is happy, irritated or just overall healthy (and if you're new here you can see what we're talking about here). A cat's body language can say a lot of things, only if you know how to interpret the position of her ears or mighty tail.
Contrary to popular belief, cats do have emotions, lots of them actually. Cats are just like us, sometimes they are in need of emotional attachment and special love and care. Other times, well, just the opposite of that. Unlike you or me or other family members expressing their emotional needs, your feline friend can't always do that so it's up to you to understand their behaviour and what they need. W
e've put together a list of some activities you can do to bring emotional peace and happiness to your beloved furry friend.